5 Ways Associations Can Drive Non-Dues Revenue Maggie Greene | January 29, 2020
When budgets are tight and you want to get the most from your members, there are countless innovative tactics you can use for revenue generation outside of traditional membership dues.
Looking ahead to the future, though, it's important to understand the historical context as well: what are membership dues and when are they required? Association memberships and related programs often require one-time or annual fees, also known as dues, for access to networks or groups with shared interests and programs or content relevant to those groups.
How to drive non-dues revenue
Industry associations are one example. Each industry faces unique challenges regarding laws and regulations, general business operations, and member engagement. Collecting dues enables the association to build and maintain valuable resources for members. In the modern landscape, associations can generate revenue in new ways that deliver even more value to members without increasing membership dues.
Here we will explore five strategies for associations to drive non-dues revenue going into 2020: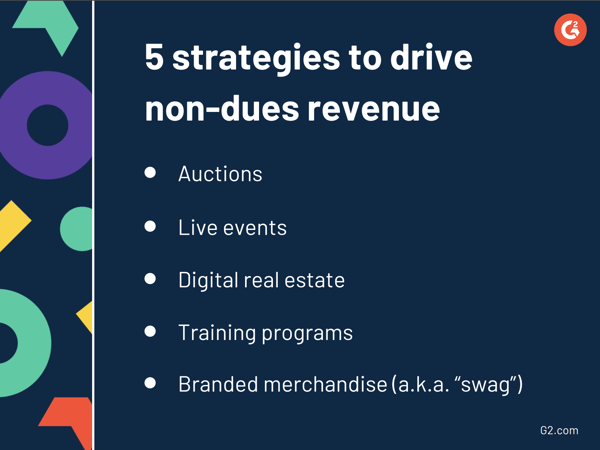 This is by no means an exhaustive list, nor is it a playbook. We hope to challenge and inspire your thinking around creative ways to engage members and make it easy for them to contribute. Let's dive in!
1. Auctions
The traditional auction model has evolved; there are seemingly endless possible ways to execute this important fundraising activity. Here are a few things to consider when you're planning an auction designed to engage and drive revenue for your organizations.
Donation appeals
Be creative with your calls for donations (donation appeals) and make sure they are placed strategically in highly-visible spaces. The most successful appeals result in increased donations: alternative sources of revenue you can use to augment dues. Build your appeals around stories that elicit emotion and show impact (donor ROI). Your website, email signatures, radio or broadcast spots, and one-on-one messaging are great examples of where to capture appeals.
Raffles
Raffles are a fun way to engage your members, and ticket sales can rack up quickly, especially if you host a raffle as part of a larger-scale fundraising event. Organizing a raffle is fairly simple: you sell tickets at a fixed price, tickets are entered into a repository and drawn at random, those with the winning ticket are rewarded with a special prize. Each of these elements can be tailored to suit your audience and you can leverage prizes in sponsorship appeals for your fundraising event or auction.
Resources
The most valuable resource for businesses, associations, and organizations is time and there's only so much of it to go around. Consider auctioning off resources that will enhance or save time for members and their teams.
It could be anything:
Software or hardware to help power an analog process
Templates for content, procedures, or training courses
A ticket and travel accommodations to a conference or event
2. Live events
Events are increasingly more valuable to associations and their members, as the nonprofit sector catches up with modern marketing trends and innovations. While they can seem like overwhelming investments, the opportunities for return can really pay off.
Registration
Ticket costs for conferences, events, and tradeshows vary wildly depending on factors like audience capacity, location, speaker lineup, and general demand. If your development officer or event organizer is weighing options, consider offering discounted rates at various times leading up to your event. This tactic helps you drive demand for your event. By making it clear to prospective attendees that cost will increase over time, you build up their interest and your revenue.
Sponsorships
There are countless ways to solicit sponsorships for an event or conference. The level of complexity, customization, and cost-to-benefit potential will depend on your intended audience and prospective sponsors. The value, or perceived value, of your event to sponsors will differ from the value to attendees. As you think about models for event sponsorship, consider the relationships you're trying to help build: are your people looking for products or services, subject matter expertise, or something else?
Technology
As suggested in the earlier section about auctions, technology is a great tool for events. You may auction off hardware, like a tablet or other device, to help your people in their work. But technology is also an effective tool for helping you with your events. Consider leveraging your existing tools (like CRM or LMS) and integrating them with robust technical solutions, such as a mobile event app and event microsite, designed to help with ticketing, registration, engagement, and more.