Will Your Sponsors Succeed at Your Virtual Event? By Tobias Schremmer
Are you trying to shift your event(s) to virtual due to the COVID-19 pandemic? Among the challenges you're facing is answering this critical question: How do I ensure my sponsors see the value and succeed in this new environment?
Planning a shift to virtual events often focuses primarily on the attendee experience, which is understandable and normal. However, your sponsors are shifting with you as well, and they will need extra hand-holding to specifically understand how they will be able to reach their objectives and convince their budget-holders that this reconstructed event is worth the investment.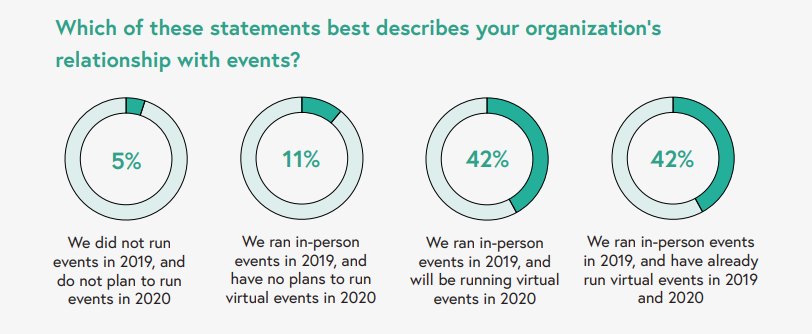 If you are not experienced at running virtual events and therefore have no benchmarks, it is a good idea to set moderate expectations regarding lead quantity and quality. Stress to your sponsors that they will be able to engage with the same attendees they normally would during your in-person events, though the intensity of the interactions may be different. When Digital Summit tested our first virtual conference, we were very candid with our existing sponsors about what aspects we were unsure of going into this new territory. They appreciated the candor, and we received no strong negative feedback after our first digital event because, in part, we had a) clearly outlined our reasons for our decisions and b) were willing to admit that we could not safely predict how many leads they would generate.
A good place to start when going virtual with your sponsorships is to review your current sponsorship prospectus to identify the most important benefits that can be translated into the virtual environment. This may well result in a totally new document. View this as an opportunity to brand the virtual event as its own special opportunity for your sponsors. Add as much visual sizzle as possible, such as images of virtual booths and pictures of keynote speakers in the virtual event platform. You'll certainly want to remove all benefits/details from your standard prospectus that are not relevant.
Don't feel compelled to convert all benefits over, but rather focus on what your sponsors really value. At Digital Summit, we created a virtual event sponsor prospectus that was just two pages (compared to eight pages for our standard events). We also dropped the number of our standard sponsorship packages down from four (for traditional, in-person events) to two. For context, our standard prospectus has four packages, the more premium two of which contain the very desirable benefit of having a speaking slot. Since many of the other benefits that distinguished these levels from each other did not map well to the virtual format, we opted to make our virtual event sponsor packages consist of one package with a speaking session plus one without speaking. This has the added benefit of simplicity and focusing the spotlight on the main benefit available. Whether it is a speaking session or another marquee sponsor benefit that most entices your sponsors to sign up, focus on that core benefit and build out your options around it.
Here are ten tactical recommendations to adjust your sponsorship offerings for your virtual event.
Ten Tactical Recommendtions to Adjust Your Virtual Event Sponsorship Offerings
Define Attendee Engagement
Clearly outline the ways sponsors will be able to interact with attendees, such as:
Speaking opportunities
Do you normally allot editorial/speaking sessions to your sponsors? If so, it will be an easy transition to offer similar options in the digital version of your conference. The virtual platforms typically allow you to easily capture the list of attendees at each session, which is incredibly valuable to sponsors who are allowed to speak. Put this feature on your virtual event platform RFP wish-list!
Notes:
1. Post a disclaimer on such sessions so the attendees know before clicking into the room that their info will be shared with the sponsor.
2. Maintain editorial control over sponsor presentations.
Exhibiting
Be sure the virtual event platform you are considering comes with a pre-built virtual exhibit hall. Most do, but don't assume that setting up a virtual expo hall is the last thing you need to do to ensure your sponsors have a suitable 'virtual booth' to chat with attendees. Such online areas are often more challenging to steer attendees to compared to your efforts to get attendees to walk through your exhibitor areas at your in-person events.
So, don't settle for just the virtual platform – consider using a separate tool like Slack to run concurrently with your event. Drive attendees and sponsors to use such a dedicated workspace to communicate. Such tools are already built for easy communications and are already familiar to many of your attendees.
Regarding using a separate communication tool (such as Slack) as the go-to location for attendees, speakers and sponsors to talk during your event, some key criteria would be:
Is the tool widespread and therefore more likely that a high percent of attendees will see it as a low-friction step?
Familiarity – if your organization does not use any such applications, perhaps the best thing would be to stay within the virtual event platform.
How customizable is the tool? For example, Slack allows creation of individual channels in each workspace so sponsors can have their own dedicated channels to spark conversations, offer their 'digital swag,' etc.
Cost – again, if you already have a tool in place, it may be very cheap or no cost to add a separate event space.
To see use of Slack in action, go to a Digital Summit At Home event!
Price Accordingly
Be willing to adjust your sponsor price points as necessary based on the realities that most impact sponsor value:
Are you expecting overall turnout to be below (or above) your traditional event?
Is your virtual event going to be free to attend? (If so, that impacts the perception of lead quality)
How long will the event be?
Will the sponsor be able to 'man their booth/presence' with just one or two people?
If you have in-kind or barter arrangements, can those be translated to mutually beneficial terms for your online event?
Decide What You'll Do with The List
Decide in advance how you want to utilize the attendee list. If you normally turn the full list over to sponsors, consider doing the same for your virtual event. Issue an appropriate disclosure to attendees that their data will be given to sponsors. Or, if your standard operating procedure is that sponsors can only take home the leads they scan at their booth, focus on how you will help drive attendees to their virtual booths.
Partner Early
Engage your core sponsors as partners in building the event; ask them, what do they want from a virtual event? Have they participated in another virtual event, and if so, what has worked well for helping them reach their goals in sponsoring a virtual event, and what has not worked? What are their main concerns going into your virtual event?
Manage Expectations
Don't let sponsors think this is a straight map-over from physical to virtual. They might have to work harder at engaging people from behind a computer screen. They might not be able to use their long-running expo hall games or pitches. Collect some ideas for engaging attendees online to offer your sponsors. A Google search will yield plenty of virtual engagement tactics. Manage expectations but make participating in your event easier to satisfy those adjusted expectations.
Conduct Sponsor Training
Set training sessions for your sponsors prior to the event. Make sure their team is registered well before the event. Show them the virtual event space, including, if necessary, the third-party chat tool, if you are using one. Set behavior guidelines such as asking sponsors not to act 'spammy' during the event or interfere in each other's presence. Think through ways to help them engage sponsors such as running contests and showing them all the acceptable ways to promote such activity inside the space.
Offer Game Day Support
Make sure your sponsors have dedicated personnel in your company who will be online and available to assist with real-time questions and troubleshooting. Give sponsors clear directions how to reach your support staff.
Clarify Speaking Opportunities
If you have sponsors who will speak, thoroughly go through their speaker and topic with them. Help them keep their session as educational and relevant as possible to your audience so that they can attain a great turnout. If you will offer a 'solutions theater' approach where sponsors will have a dedicated place and time to run demos, delineate that clearly for attendees and do a good job promoting your sponsors and all that they bring to the table to the attendees.
Start Small (if possible)
If you typically host several events, perhaps one large tradeshow plus smaller regional events, migrate the smaller event(s) to virtual first. You learn SO much from breaking eggs the first couple of times.
Research Other Events
There are many virtual events across industries. A lot are free to attend, so sign up and check out a bunch if you haven't yet. Pay close attention to what seems to be working and what isn't working. Are attendees spending time with the sponsors? Talk to the sponsors, especially the sales reps if you can find them, and see what you can learn. Steal the ideas that work well for your virtual event.
The main take away to seeing successful, happy sponsors at an online event is to be sure to plan your event with them as an equal stakeholder. 'How will the decisions we make impact our sponsors?' is an especially important question when shifting to virtual as many of them will be reluctant to commit dollars to an environment that won't allow actual, in-person conversations. The tips and recommendations above can help ensure their success, which will ensure that your event is successful.