5 Practical Tips for Instituting a Vaccine Mandate at Your Next Meeting
Meeting and co-working space Convene recently started requiring vaccines at its 23 venues around the country. Learn how the team is doing it and the advice they'd give other event organizers.
In the event and meeting industry, opinions are mixed on whether vaccines should be required to enter a venue or gathering. But one venue taking a clear stand is flex office space and meetings provider Convene, which last week announced that proof of vaccination will be required for all employees, clients, members and guests at its 23 locations around the country.
The mandate, which goes into effect next month, was made in consultation with Convene's healthcare provider Eden Health, which the company has been partnering with throughout the pandemic, as well as guidance from the CDC and other government entities.
BizBash caught up with Amy Pooser, global chief operating and chief people officer at Convene, to learn how the new mandate will work. Read on for some tips and best practices for instituting a vaccine mandate at your own event or venue.
1. Clearly communicate protocols well in advance.
Convene announced the new policy on Aug. 17 and will begin enforcing it on Sept. 13, when attendees will need to show proof of at least one shot to enter a Convene location. And by Oct. 4, Convene will be requiring proof of full vaccination status. (There will be exemptions for religious and medical reasons.)
Pooser says this kind of advance notice is crucial. "You need to communicate to people and give them time to do what they need to do," she advises. "It's really about communication and thoughtfulness." And in the coming days and weeks, she adds, Convene will publish additional, detailed guidance and educational resources to support the vaccination requirement.
2. Offer a hybrid option for guests who prefer to stay home.
As part of the policy, Convene will offer work-from-home accommodations for employees who are not vaccinated and are able to do their jobs remotely. And for any in-person events booked at Convene, a hybrid-meeting option will be offered through Convene Studio, the brand's new suite of hybrid meetings products that pairs professional production services with full-scale technology.
"If a meetings customer booked a physical meeting and now they have attendees who aren't vaccinated and can't come into our spaces, they can easily convert it to a hybrid meeting," explains Pooser, noting that Convene has also launched a new add-on product called Event Assurance, a scaled-down version of the Studio product that can convert any physical event to a hybrid one in just 48 hours. "If clients are worried that at the last minute they may have some participants who are not vaccinated and who need to attend virtually, we can offer them a more lightweight Convene solution that's still premium and still high-end."
Pooser adds, "They can have that peace of mind that no matter what happens with COVID, they'll be able to have their meeting and to have a great outcome."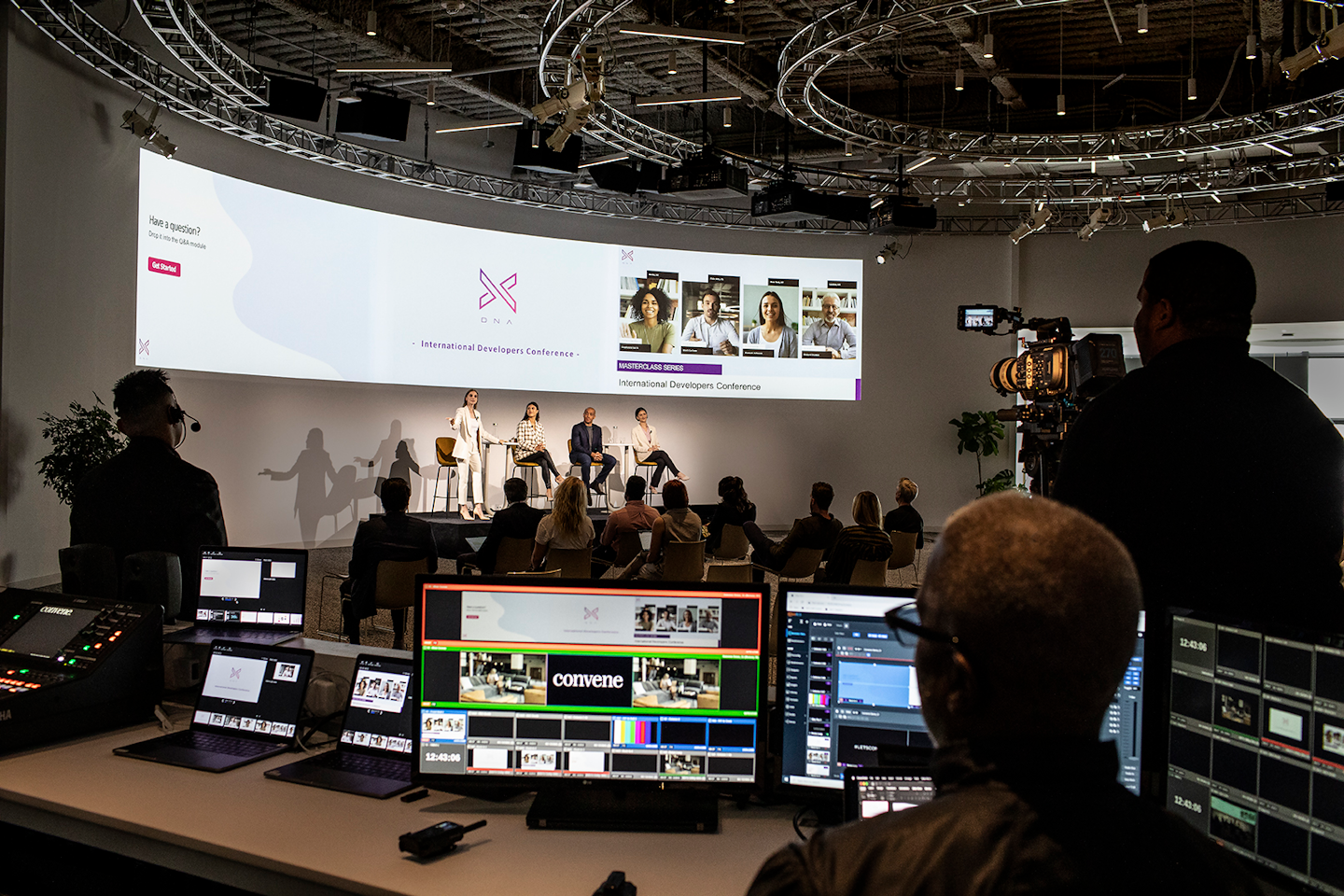 Convene Studio, available for both hybrid or fully virtual meetings around the world, includes a dedicated event and production team.Photo: Courtesy of Convene
3. For larger events, consider checking vaccinations ahead of time, not at the door.
Convene is accepting either electronic proof of vaccine (like New York's Excelsior Pass) or physical vaccine cards along with a photo ID, which will all be checked upon entering the venues.
But for events not at Convene and depending on local regulations, larger groups and meetings may want to work with a vaccine verification company to gather proof ahead of time to avoid a lengthy check-in process on-site. (Pro tip: Some companies offering streamlined, pre-event vaccine verification for events include CrowdPass, VOW Digital Health, CLEAR and Fern Health Check, with more options popping up regularly.)
4. Pay attention to local laws and regulations.
As with all things COVID, rules and regulations vary state by state. Convene's locations in New York, Boston, Chicago, Washington, D.C. and Philadelphia all allow this type of mandate, while other cities and states—like Florida and Texas—may not allow it. Make sure to do your research.
5. Be prepared to lose some attendees—and that's OK.
Pooser expected pushback on Convene's new policy, but notes that the majority of its customers were grateful for the mandate. "I'd say out of every 10 responses, nine are, 'Thank you so much for leading. Thank you for doing this. Thank you for keeping your spaces safe for us,'" she notes. "There are a lot of great organizations that are taking this same stance, and we believe that even if there's pushback, we've got to do the right thing … so we can move to a different phase—hopefully, a post-pandemic phase—where we're free to have meetings like we used to have meetings."
Above all, "Be courageous and be thoughtful," she advises other event producers and venues considering their own vaccine mandate.